I hear you. 'What the f#&k is Poutine', you ask? It's a dish that dates back to 1957 in French speaking Quebec. Someone asked the roadside diner chef to jazz up his portion of chips with some cheese curds and gravy. The result from this exchange? Canada's national icon.
House of Poutine
- nestled over on Chequer Street in St. Albans - has brought Canada's unofficial official dish to Hertfordshire, with a
wonderfully inclusive menu
so anyone can come and enjoy this incredibly moreish meal.
So you think it's just chips, cheese and gravy - and that you could make it yourself? 'Hold my chip.' James from House of Poutine enlightens me with the meticulous trial and error, painstaking culinary development of every single component to make this dish complete.
The gravy? A bespoke blend of veal and beef. Not a meat fan? Their vegan savoury miso gravy is guaranteed to take you on a trip through flavourville. The HOP team tested a lot to make their super crispy chips (fries?) perfect, and it's so heartwarming to know that the ingredients are locally and sustainably sourced. For me, it makes the food much more sentimental.
'We're going to make you a medley of our Poutine dishes and side orders' belted James from the HOP kitchen.
As I continue taking in the sights of a new restaurant - which launched during the tough time of October 2021 - James' mini-medley was ready. Oh dear Lord, it's a real sight to behold.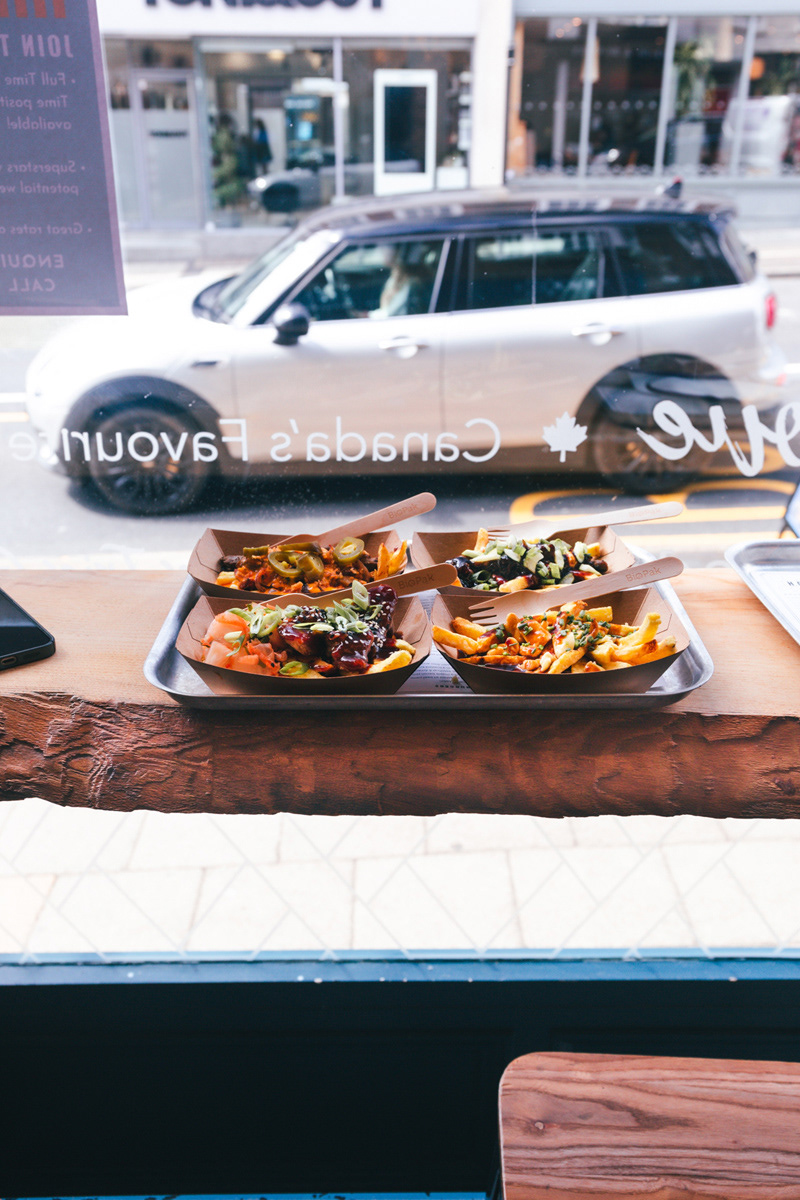 James presents their taster-size sides of HOP Spicy Korean Cauliflower: coated in cornflour for a light crisp then dressed with gochujang and a sprinkling of sesame seed and spring onion, BBQ Onion Rings which was I was absolutely sold on when James said 'onion on onion', Chilli Cheese Tater Tots: as you know it. But here they bathe it in American cheese and top it off with some shredded jalapeños. Finally their Halloumi Fries, super rich halloumi cheese in a crunchy coating, mellowed out with their fantastic vegan aioli.
So I began to dig in to the sides, each one holding its own as a side dish here! Remember that scene in Ratatouille where Anton Ego tastes it and has a mega flashback? Oh it's happening.
Korean Spicy Cauliflower
Like a perfect roast potato (and they know a thing or two about that here), the cauliflower is has a lovely crisp which then reveals soft cauli-meat. The choice to go with the dusting of cornflour yields a better crispy finish, reduces the ingredients list which is ideal for a compact kitchen, and the cornflour caters for a wider audience - hello gluten-free buddies! A sweet-yet-savoury, earthy taste of the Korean hot pepper paste in sauce format, coats the cauliflower and gives you a very mild introduction to Korean tastebuds. Garnished with a smattering of sesame seeds and spring onion, this to me is one of the top side dishes to accompany your meal here at HOP.
BBQ Onion Rings
Now if you want crisp, this is the one. Crispy onions partnered up with a delicately fried plate of onion rings, dressed with a sweet BBQ sauce, it's a side dish that sounds simple on paper - but it punches well above its weight here. 
Chilli Cheese Tater Tots
As the name suggests, tater tots with chilli cheese. How the team manages to keep the tater tots crispy even when it's in a shallow pool of American cheese and accompanied with the delightfully sharp jalapeños, is culinary witchcraft. Pretty sure I've said this a lot, but HOP's got the 'crispy and fluffy' vibe down to a T.
Halloumi Fries
I wouldn't call these fries as they are the size of festively plump cheese sticks, and I'm not annoyed at all. These are awesome! The naturally salty element of halloumi paired with a mild vegan-friendly aioli - HELLO - I'm glad they only made two, I could have easily had 18. Since I had the sides there, I dipped the halloumi into the American cheese from the tater tots. Cheese on cheese = win on win.
But it was also time to sample what was making House of Poutine a big name in St. Albans.
Holy moly.
I was looking forward to the Classic Poutine as this was what I experienced during my time in Canada. House of Poutine's unique blend of veal and beef making their signature gravy a real hard-hitter, and here's the thing.
I don't eat beef, but I'll happily have Poutine.
While the Classic is the one I was excited to try out, I was blown away with their wide variety on the menu. Curated for Poutine lovers but slowly expanded to accommodate more dishes for everyone to try out. They didn't stop there though, sweet treats like Churros and working closely with Hertfordshire's Junk Food Co, Nanaimo Bites! OMG.
Cheddar cheese curds doesn't sound like much - but there is no substitute for it. Soft yet firm, melt but not melted, malleable yet holding shape - and the squeak. THE CHEESE SQUEAK.
It took House of Poutine 3 full months to perfect the chip, and boy can you taste it.
Here I was treated to four mouth-watering mini dishes:
The Classic
With their signature veal and beef gravy providing a real savoury hit, the Classic Poutine doesn't require any other condiments. Simply get stuck in with the squeaky cheese curds, crispy Maris Pipers all linked together with their gravy. Utter classic, utter win.
Hoisin Duck
The ever popular duck pancake from Chinese restaurants and take-aways, now available in Poutine format. Skeptical? Don't be. I can confirm it tastes as good as the duck pancakes you know and love, tender shredded aromatic duck, cucumber, spring onion, the lot. Only with added chips and cheese curds to make a wholesome dish even more so.
Philly Cheese Steak
HOP's classic poutine, taken to the next level with sliced feather blade steak, caramelised onions, peppers, American cheese, jalapeños and to contrast the Philly cheese steak with some crunch, a sprinkling of crispy onion. This is House of Poutine's most popular dish and I can see why - as a non-beef eater, I would eat this. Jeez, the feather blade steak just melts in your mouth! Laced with the American cheese, the sharp and mildly spicy jalapeños, aromatic onions and peppers, this is sublime. Absolutely incredible. If there was ever a dish that could pull me out of not eating beef for 3 years, this is it.
Korean Fried Chik'N (Vegan, Gluten-free option)
Korean food has taken the UK by storm and everyone is jumping on the wagon. Just not like this. The crispy vegan fried protein pieces have a coating very reminiscent of the legit Korean Fried Chicken; crispy, crunchy but can cling to sauce without making it a soggy affair. The gravy is a savoury miso that's just wonderfully rich in flavour and the dish elevates some more with HOP's gochujang sauce. To the side of the dish, their homemade kimchi has a delicate taste that really cuts through the miso gravy, creating such a culinary combination. The kimchi, made in-house has zero accelerants, so there's no proper fermentation process however they've done a cracking job to create such a legitimate tasting Korean staple, made possible to be served in a fast paced restaurant nestled in the Roman city. Bravo.
And it's the vegan Korean Fried Chik'N that takes the top spot for me. I'm delighted and overwhelmed with having the possibility of experiencing Poutine on my doorstep in the UK, I'm so happy to have had their Classic Poutine, but when there's a medley of ideas visualised by James and his talented team, you have to roll with it and be a bit of a Dora, exploring new things.
It's that possibility to try new things here at House of Poutine which makes my surprising decision that the vegan option is my favourite Poutine dish, I simply adore it.
Not wanting to try Poutine yet? HOP has that covered too. They have extended their menu so as an alternative, you can have a fantastic burger (whilst picking at your friend's Poutine dish, am I right?).
Got a sweet tooth? They've got you there too. Awesome sweet treats specially made for House of Poutine by the kind souls that are Junk Food Co, Hertfordshire now has the opportunity to sample another great Canadian staple, Nanaimo Bites. Named after the city in British Columbia, this is a Canadian no-bake specialty formed of a shredded coconut biscuit base, buttery smooth custard filling and topped up with a layer of chocolate ganache. Junk Food Co have elevated it with a new variant which includes peanut and pretzel. These sell out quick, so it's best to grab one when you place an order.
HOP's Nanaimo Bites come in a block of 4 pieces and are extremely moreish. I really mean it, this is the only photo I took as all were consumed - I'm not even sorry. 
I've got to come back and try some of their Maple Pecan Blondies, I'm already sold on the name.

Canada you should be proud, your tasty home treats are now available here in Blighty. I couldn't be happier that House of Poutine is on my doorstep, I'm already planning my next meal outing there! 
I'm also incredibly proud of the team. While I've only met Antonio, James and Diana, it's already so clear to see the passion and determination to make HOP such a success, It's been so great, it's even attracted fellow Canadian Katherine Ryan to come and have a little taste of home. I have a feeling a second store is on the horizon.

So there you have it, Poutine. Approved by Kathbum herself, loved by many, written by me. Many thanks to House of Poutine for this #PRinvite.
Go check it out:
📍: House of Poutine, 12 Chequer Street, St. Albans, Hertfordshire AL1 3XZ
💷: £-££
🙂: 9/10 
Do you have a place you'd like me to check out? Let me know by completing the form below:
Thanks for getting in touch and letting me know which foodspot to try! I'll let you know how it goes :) - Keyfobandgob